Holden After & Before writer Tara McGuire joins the Vancouver Writers Festival for two events
Reviews and recommendations are unbiased and products are independently selected. Postmedia may earn an affiliate commission on purchases made through links on this page.
Content of the article
Vancouver Writers Festival: Tara McGuire
Content of the article
When: Write the Self event at 6 p.m., Oct. 21 at Performance Works; Mixing Genres, 5 p.m., October 22, The Nest
Content of the article
Where: Granville Island, Vancouver
Tickets and info: writersfest.bc.ca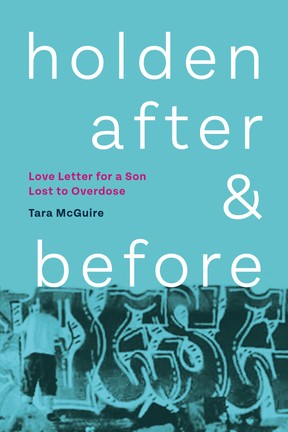 Tara McGuire has written a brave, beautiful, and compelling book about loss and a parent's search for answers.
Unfortunately for McGuire, she had to write this book about the loss and search for a parent to find answers from her personal experience. Holden After & Before is a stunning and moving elegy to McGuire's son, Holden, who died of a toxic mix of alcohol and heroin in 2015 at the age of 21.
"I know it's a terribly sad book and I wish I hadn't written it," Vancouver's McGuire said in a phone conversation.
It's a sad book that will resonate with many as the overdose crisis rages on.
Content of the article
"A lot of people are going to tell me their very sad stories and I'm going to listen to them," said McGuire, who is also the mother of a 19-year-old daughter.
The book, out now, follows McGuire as she investigates her graffiti artist son's final days trying to find a way through Holden's life and death. Throughout the text, the themes of loss, mental illness, creativity, a mother's love, and the overdose crisis are discussed broadly.
McGuire's choice to employ the technique of autofiction – meaning that autobiographical facts and memories are embellished and tied to fiction – makes this book a page-turning thriller. You want to know what happens to Holden at each stage.
"I wanted to pay tribute to his life. Then it became clear that my impressions of his life were also valid. In one iteration, it was pure memories. I felt that was not enough. He wasn't there enough. So I kind of went for this hybrid where I could do both but go from memoir to fiction using these little bits of research," said McGuire, who was a successful broadcaster before deciding to write full time.
Content of the article
McGuire, who studied writing at SFU and UBC, relied on things like photographs, conversations with Holden's friends, social media posts and her reading list — a reading list that McGuire says helps her feel close to her son today.
"I would just imagine what it might have been like to be in that scene. I would almost try, I don't know, to jump into that scene," McGuire said.
"I come from a journalism background and have always been a curious person but, to be honest, grief drives you crazy," McGuire said. "People do very strange things, and I was very compelled to go to where he was and be with his friends and listen to his music. Go to the graffiti places and do all that stuff, so that I could be with him in a really weird way. It didn't feel weird to me. At the time, it seemed very necessary.
Content of the article
"I didn't want him gone so I wanted to be with him any way I could. So I kind of followed him even though he wasn't there. Doesn't make any sense, but that's what I did.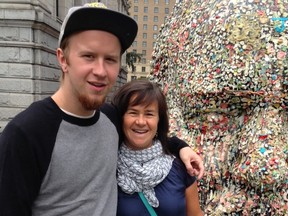 It took McGuire six years to complete the book. During that time, she says, not a day went by that she didn't wonder why she was going through such a painful process.
"I tried to quit doing it many times," McGuire said. "I kept coming back to it. I was so angry. I was so angry at the world. I was so angry at Holden. And I was angry at myself for being a terrible mother. Angry at his friends for not telling us what was going on with him. I was just angry. And, I guess, it was kind of an outlet or a treatment tool.
"A lot of people say 'that must have helped you heal.' F- no. It made things so much worse. I had to stick with it. I'm still with it. I just voiced the audiobook and it was like hell reading it and coming back to it. I don't know no, I guess I'm weird. I just couldn't help myself doing it.
Content of the article
While revisiting one of the worst things imaginable that can happen to a person was certainly upsetting, McGuire now has some distance.
"I would say it was a painful experience. But if I didn't, I think I'd be in more pain now," said McGuire, who said she spent her son's last birthday in bed.
Although Holden's story is the backbone of this book, it's a story too many people know as the number of drug overdoses continues to rise, as do the reminders that death from drug use does not discriminate. Holden came from a loving middle-class family.
"Why not me?" McGuire said, adding that she had no solution to the overdose epidemic other than to open minds and lines of communication.
"Substance use is so stigmatized. Addicts are seen as worse than almost anyone in society and there's a big mental health part to that as well," McGuire said.
Content of the article
"What I hope is that we can talk more about it. I think if Holden could have come up to anybody, not necessarily his parents, but come forward and say, 'You guys, I I've made mistakes and I'm screwed here, what do I do?" But that's not the conversation. It's so hidden and so stigmatized that people can't come forward. It's a crime They can't show up, and even when they do, there's very little help available.
McGuire will share more about her story and her writing choices as she takes part in two events at the Vancouver Writers Festival (VWF), through October 23.
McGuire will be on the panel for Writing the Self on October 21 at 6 p.m. at Performance Works and Blending Genres on October 22 at 5 p.m. at The Nest. For the Writing the Self event, McGuire will appear with Joshua Whitehead and Putsata Reang and for the Blending Genres even McGuire will take the stage with Stuart Ross and Jónína Kirton.
Content of the article
A longtime VWF fan, McGuire admits to being a fan of Margaret Atwood after a VWF event and tricking the literary legend into taking a photo with her outside the Granville Island concrete plant.
So how does it feel to trade the role of a VWF audience member for that of a featured festival writer.
"I'm scared of shit! Can you print it? McGuire said. "Just kidding, I feel honored and a little nervous to be in conversation with such amazing writers and moderators. Also, I don't know what to wear. My daughter will have to help me find two outfits!
dgee@postmedia.com