Kelly Makepeace's holiday season has been filled with sitting down and reading a good book.
The only thing is that they are all intended for children from one to five years old.
Tamworth's speech-language pathologist labeled the books in the town library based on their grammar, sentence structure, plurals and active verbs.
She hopes that by categorizing and providing activities on the back cover, teachers and parents can make their own speech therapy.
"I analyze and check which vocabulary will expand from the everyday speech," Ms. Makepeace said.
She has now filed 50 books at the Tamworth Regional Library and is counting.
A fight to find their voice
While Ms. Makepeace's younger students may not be able to make sense of the words, she noticed a glaring problem.
"Many of these children do not reach these [language] milestones you would expect. "
According to the Australian Early Development Census, children in the Tamworth area are four times more likely to be vulnerable in their communication development before they start school.
"Maybe it's not their speech, but the way they speak. They could drop the plural s, all kinds of things.
"It is difficult to teach a student that you cannot understand or does not understand yourself."
A donation from the local community in mid-2021 sparked the project.
"I had just graduated and wanted to do some sort of project with all these wonderfully colorful books in front of me," Ms. Makepeace said.
"A good friend of mine at the Bingara library, which is part of our system, said the local operations store donated $ 3,000 for preschool, what can you do with it? And that's how it started. "
More than words on a page
Brisbane speech-language pathologist Amanda Hartmann wanted to change the lack of portrayal of disabilities when she wrote her first children's book.
This is a goal that more writers can focus on.
"Well-known speech disorders are probably things like autism or Down syndrome, but they are very rarely discussed in an illustrated book," Ms. Hartmann said.
"Because there is so much technology, we don't put so many books in the hands of children, and it can make it difficult for them to speak and read aloud."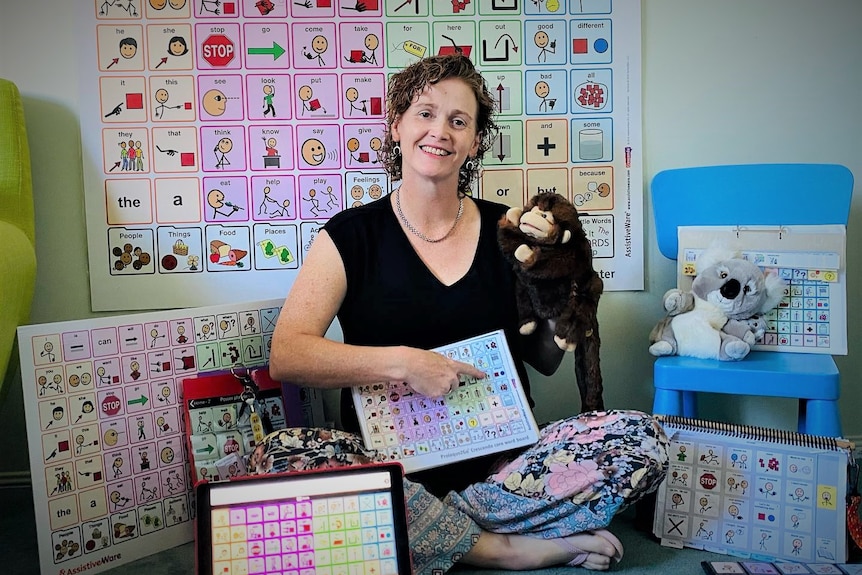 What parents can do
Ms Hartmann said books with fun, real-life illustrations were the most appealing to children.
"Try asking questions. If there's a picture of a pizza, ask if they've made pizza before.
"Isolating different words and concepts will be able to build someone's language."
At Tamworth Regional Library, Ms Makepeace made progress with her students and the freshly labeled books by interacting with the story.
"Sit down waiting for your child and tell him that you are ready for something to happen," she said.
"If it's a baby, ask if he wants the rattle and wait for that response. Then answer yourself, as if you were having a two-way conversation.