After the spectators knock on a wooden door and give the secret password, Ellis invites his guests "to enter through the coffin" – a coffin-shaped door decorated with a skeleton – which leads to a warm and comfortable 32-seater that Ellis built and adorned with magic-themed paraphernalia.
What follows is 85 minutes of gasps and wide-eyed amazement as Ellis performs close-range magic and sleight of hand. We see every move of his deft and delightfully mysterious hands on a giant screen, but how he performs these tricks with cards, bottles and silk handkerchiefs remains a breathtaking mystery.
The "Magic Menu" is a choose-your-own performance where the audience selects the magic from a menu of starters, entrees, main courses and desserts, ensuring that each show is different, but the absolute wonder remains the same.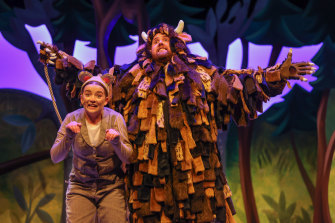 Playing cards magically transform, a bell rings, coins disappear, objects move, and Ellis reads the volunteers' minds. Adults will be as delighted, amazed and speechless as children. "Magic is the only art form that families can truly enjoy together," says Ellis. "Even though the show is designed for toddlers, adults see the magic reflected on their children's faces and are just as spellbound.
The Melbourne Magic Festival The family show program includes illusion, dance, ventriloquism, comedy, clowning, juggling and cabaret – and hosts the Australian Under-18 Junior Magic Championship.
Loading
If your kids love shows based on their favorite picture books, then two productions at Athenaeum Theater will tickle their fancy. The Very Hungry Caterpillar Showbased on the books by Eric Carle, features brightly colored and skillfully manipulated puppet versions of the famous caterpillar and other characters including a dog, cat, bird, seal, turtle, sheep and butterfly in a vibrant production that will charm young children.
Immediately after at the Athenaeum is The Gruffalothis remarkably popular children's story written by Julia Donaldson and illustrated by Axel Scheffler: "A mouse wandered through the deep dark wood" and met the fox, the owl, the snake and the Gruffalo himself.
Children's shows are often overlooked by critics, laments Kelly of The Listies, but children's theater can be more entertaining and enticing – with better performances – than some served adult fare.
A cultural guide to go out and love your city. Sign up for our Culture Fix newsletter here.