The latest book, Dancing with Our Ancestors, tells the story of Sara, her brother, her father and her stepmother attending a potlatch in Hydaburg, Alaska.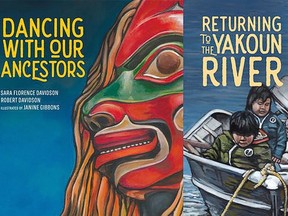 Content of the article
Sara Florence Davidson and her father, artist Robert Davidson, have released the final two picture books in their Sk'ad'a series.
Content of the article
Each of the four books documents a different day in the authors' lives, including learning to sculpt claystone and fishing on the Yakoun River. Along the way, they immerse the reader in an Indigenous approach to teaching and learning.
Content of the article
Sk'ad'a means learning in the Haida language.
The series highlights moments in Robert's life, from his childhood to his grandparents, and illustrates many of the principles of Indigenous teaching methods Sara is studying as a professor at Simon Fraser University.
"A lot of my work is about Indigenous education and I really encourage educators and teacher candidates to think about education differently and different approaches to education," she explained. "So I had this idea, well, one of the ideas is intergenerational learning and I thought, wouldn't it be interesting to share these stories from different times in my dad's life?"
Content of the article
The first two books are told from Robert's point of view even before Sara was born. To make sure she had the correct information, she conducted lengthy interviews with her father.
"The reason my dad co-authored all the books is because he made these huge oral contributions and that's really important to me and my work, both in college, but also in the work that I do most in the community, is to recognize and honor these contributions.
For the third book in the series, Returning to the Yakoun River, Sara conducted equally lengthy interviews with her brother, Ben Davidson, as it was about an experience they had together when their father took them fishing. to the river on Haida Gwaii.
"It was a really special time in my life to go hang out at the Yakoun River and when my dad shared stories with me, there were some really interesting teachings he talked about when he talked about those times."
Content of the article
The latest book, Dancing with Our Ancestors, tells the story of Sara, her brother, her father, and her stepmother attending a potlatch in Hydaburg, Alaska.
"Originally, this book was supposed to be about that potlatch day. Before I had the chance to write this book, my brother passed away and that changed the meaning of this story because it was the last time we danced together.
Sara said it was also an opportunity to talk about the potlatch ban and to invite more people to learn more about this part of Canadian history.
"There is this perception that our traditional practices or ceremonial practices are in the past and therefore this idea of ​​capturing what a potlatch is today, just to remind people that we are still here. We're still here, we're still doing our ceremonies and that's why it was a really important story to share.
Content of the article
Although written in a picture book format, the books are mostly historical fiction, the latter, about the potlatch at Hydaburg, almost non-fiction, even in the illustrations.
Janine Gibbons, the Haida artist who illustrated the books, painted the images from photographs and, in cases where there were no photographs to refer to, did her own research to ensure that they were true to reality.
The collection really honors the people in the stories, which Sara says was important to her and one of the reasons she wanted to write them. The characters in the books had a significant impact on her father's life and in turn her own life and Sara wanted to make sure people remembered and learned from them.
Content of the article
"I worked with my dad and he tells me a lot of these stories about the elders who were alive in his time and what he learned from them and for me, I'm really grateful to have had access to these teachings, but I felt really sad, for example, for my brother's children who obviously will never meet these people.
Sara hopes these books will fill that gap for her nieces and nephews. She also hopes that people from other places can relate to the tales and that they might trigger something from their own memory.
Kaitlyn Bailey is a reporter at Prince Rupert Northern View.
---
More news, less ads: Our in-depth journalism is possible thanks to the support of our subscribers. For just $3.50 a week, you can get unlimited, lightweight access to the Vancouver Sun, The Province, National Post and 13 other Canadian news sites. Support us by subscribing today: The Vancouver Sun | Province.